13 Nov 2020
Email Design Trends for 2021 You Need to Start Preparing For
There's no doubt about the fact that email marketing is one of the top marketing channels preferred by digital marketers; globally.
Emails have been in existence for nearly half a century now (they were here before the internet) and, yet, the importance of email has only risen with time.
A lot of studies and market research reports, conducted by top reputed firms, have shown why email marketing is of so much importance for any business setup; irrespective of how big or small they are.
Did you know, "Email is the prime source of customer acquisition and retention for nearly 80% of the SMBs"?
In fact, according to a survey report by McKinsey, email is 40x more effective at acquiring customers than Facebook and Twitter combined. Now, that's gigantic!
Last year, the global email users amounted to 3.9 billion and, the figure is predicted to reach 4.3 billion by 2023.
The fact that email marketing provides the highest ROI through any kind of digital marketing platform ($44 for every $1 spent) makes it a crucial part of any business plan.
However, for any email marketing campaign to be successful and reap the benefits which it has the potential to, you need to first ensure that it is designed well and professionally.
Yes! The email design template that you are using for your marketing plan needs to match your brand's value and must be targeting the right audience.
And, it is because of this reason that we are here today to discuss some of the highly anticipated email design trends for 2021 that you need to be prepared for.
These trends will help you get email design ideas that you can apply to create your own email designs or can share it with your design affiliate partners (if you have outsourced your services to get on-demand graphic designs).
So, without any further ado, let's take a look at the list of email design trends for 2021.
Hyper-personalization
Personalizing the emails has been one of the most recommended tips to create effective emails for several years now.
However, simply mentioning the recipient's name in the subject line may not suffice anymore.
Companies need to take a step ahead and ensure that the emails are hyper-personalized in order to improve not only the open rate but, also the click-through rate of the emails.
A good way to execute this hyper-personalization of emails is by segmenting the list of users and send targeted information to each segment.
Irrelevant offers or information provided through emails have been a common reason for users opting to unsubscribe emails.
So, make sure that you are creating highly personalized emails and sending them to a specific group of audience in order to improve your ROI through emails.
Interactivity
The basic process of an email is to get the user to open the email and click on the CTA that leads them to the landing page where they can complete the objective (conversion).
However, one of the most anticipated email design trends for 2021 that would change this age-old process completely is that of AMP.
AMP, or Accelerated Mobile Pages, for emails, will provide the users the option to interact with the email without having to leave the page.
It is considered to be a game-changing technique in email marketing, as companies can now create more effective newsletter designs for their email marketing campaigns.
Through AMP-enabled emails, users can complete the CTA within the email, go through a carousel of products, and shop, etc.
PS: This technology, which wasannounced by Google back in early 2018 and was finally made available for a wider audience in 2019 is now supported by the Gmail web and Gmail app on Android, and iOS.
Bolder colors and texts
Typography and colors are two of the main elements of graphic design. And, therefore, they are going to be a significant part of each year's email design trends list.
The common perception of using bold texts in the hero image of your email is going to see a rapid transition with them getting used in the email body as well.
Using highlighted (or bolder) texts helps establish a perfect visual hierarchy in the overall content that helps communicate the message effectively by pointing out the main information.
The same applies to the use of colors in email designs. Every color carries specific psychology with it that a user can relate with.
So, depending upon what your brand's voice and emotion is, you can pick the targeted color palette for creating custom email designs.
Video and animation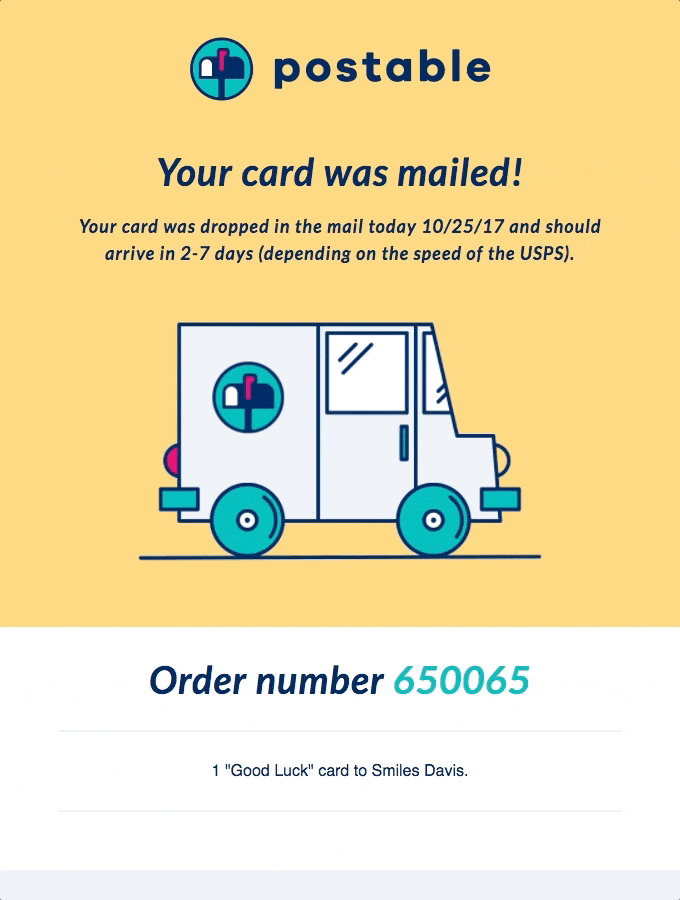 Gone are the days when emails were about textual information. Today, no one has the time to read through long paragraphs of content to understand the main message and make a decision.
Users want targeted information in a jiffy.
And, so, 2021 will be all about using lesser text and more visual graphics in the form of videos, animation, gifs, and 3D images to convey the main message.
Also, with AMP getting into the picture for email designs, it will be a good way to promote creating interactive emails.
Did you know that, according to a Forbe's report, "Your email open rate could go up by 19% if you incorporate the word "video" into your email subject line."?
Dark mode
"Dark Mode" became the talk-of-the-town in 2019 with some of the big brands adopting the feature, especially, for their mobile app designs and mobile-web versions.
Brands, such as Apple, Google, Microsoft, Facebook, etc. were some of the first names who adopted the dark mode themes.
Some of the main benefits of using the dark mode that elevated its popularity include;
- Reduces strain on eyes; hence improving readability.
- Increase visibility in low light setup.
- Saves the battery significantly.
- Provides a sense of doing something good.
- Helps improve focus
Applying dark mode for email designs will be another very lucrative trend that is expected to rise in 2021.
To conclude…
Email marketing has always been, and will be, one of the most effective channels for customer acquisition and retention.
We hope that this list of email design trends for 2021 will help you prepare better for the coming year and make the most of your email marketing campaigns.
If you are looking for professional design services to create custom email designs for your campaigns, which make use of these trends effectively, then we are here to help.
Simply send us an email with your requirements at support@graphicszoo.com and one of our design experts will be in touch.