29 Apr 2020
All You Need to Know About Print Design – An Overview
"Printing is the preservative of all arts, design, and artwork."
When we talk about graphic design, the common connotation is that of digital images crafted by professional designers. Be it a logo design, a website design, a banner design, and more. But, what many fail to realize is that all these designs are eventually put out for physical prints in order to run outdoor marketing.
Yes, digital marketing is the need of the hour today and the majority of graphic designing is done to provide strong creative support but that doesn't put the traditional marketing methods out of the question.
Companies still do aggressive outdoor marketing through billboards, newspaper ads, brochures, flyers, merchandizes, and more.
Did you know that, in general, 80% of traditional mails are opened while 80% of e-mails are disregarded? Which is a great thing considering the fact that 70% of Americans prefer to read printed mail; even today.
So, now that we have given you enough to consider the fact that print design is important, let's dive into the nitty gritties of print designing and all you should know about it.
What is a Print design and why is it important?
In simplest terms, the Print design is any graphic design created digitally but, for physical use. Graphic design in any form is about communication and print design is just another avenue for reaching your audience and sharing your message.
In this digital age, when most of the world's population is hooked to online content, it is not uncommon to consider that print design is obsolete. However, the reality is exactly the opposite.
On a day to day basis, we all come across several examples of print designs in the form of;
- Brochures
- Flyers
- Billboards
- Business cards
- Labels
- Shopping bags
- Book covers
- Stationery
- Calendars
- Posters
- Greeting cards
- Magazines and newspapers
Just like digital designs, the goal of print design is to use visual graphics to communicate a specific message to viewers. A professionally designed print immediately gives a positive impression of your company and creates brand recognition.
Here are a few numbers that clearly suggests that focusing on your print designs is extremely important for your business;
- Newspapers and magazines have 63% of popularity among consumers in comparison to the Internet (which is 25%).

- 61% of readers trust newspaper ads as opposed to 42% who give credibility to online ones.

- 95% of people under the age of 25 read magazines.

- Consumers who receive print mail promoting online sites spend 13% more than those who just receive digital information.

- People are 70% more likely to remember businesses seen in print as compared to those visible online.
Print vs Digital
It has been explained already that Print and digital graphic designs do carry similarities and common goals. The basic principles of graphic design hold true for both the mediums and have the same underlying objective for businesses; to communicate with the audience.
However, when comparing the final form and the placement of both these types of graphic designing, we notice some really stark and important differences.
It may get a little technical for those who don't have any graphic designing experience, but we'll try to discuss these differences with simple explanations:
Color scheme
Colors are at the core of any graphic design and play a key role in achieving the intended goal. Now, professionals would know that computer graphics use the RGB color system by default, i.e., red, green, and blue. However, a printing machine operates with the cyan, magenta, yellow, and black color set – commonly referred to as CMYK.
That's why it is important to set your color operating mode to CMYK while working on a design for printing purposes.



Scaling and resolution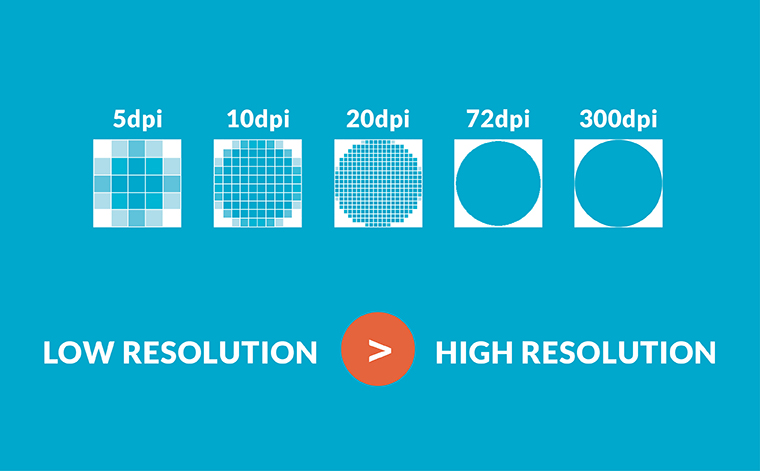 Digital design is measured in the number of pixels per inch (a.k.a PPI) but, when you are designing a graphic for printing, it should be considered in dots per inch (a.k.a DPI). Setting your design software to DPI mode is, therefore, highly important otherwise the final print design may become blurry or out of shape.
This applies to the elements and/or text that you may be using on your design. Ensure that the scaling of these elements and text is done perfectly considering the application of the design.
For example, while you are creating the design on your computer screen it's going to be printed at a much bigger size (such as a poster or billboard) or a very smaller one (such as a business card). Therefore, you need to consider how well the different elements of your design will scale. You need to ensure that the text use on your design is clearly visible and is not too small to even read.
Using vector images is a good option in such conditions as they are innately and infinitely scalable. Learn more about Vector and Raster graphics in this blog.
Proofread to Bleed
Okay! Don't be taken aback. We are not talking about bleeding for real here. Bleed is a term used to define the process of cutting down the edges of print design. Every printer cuts down some space from the edges of the final sheet containing the design and, that is why professional designers always leave a little space in their designs meant for printing.
While the standard for the 'bleed' is roughly 3mm, different printers require different measurements of bleed.
And, while most of the advanced graphic design tools include the feature to represent where the bleed would start and end, it is recommended that you always check your printer settings (or ask your printing company to tell you) before getting the print done.
To conclude…
It is very clear from the above discussion that print design is a special case in the overall graphic design process. And special cases require special skills and experience.
One needs to have a clear understanding of the basic principles of print designing, must adhere to the resolution and color schemes, and must know their way around different design software.
GraphicsZoo provides a wide range of graphic design services for businesses across different industries and carries experience in all types of print designs. Contact us today for your print design requirements at support@graphicszoo.com